Judy, who in a writing career that spans twenty-five years has had 2 other books published, including one on wildlife rehabilitation, as well as thousands of magazine articles enjoys visiting schools where she shows a video of the mutt riding the mustang, and depending on grade level, speaks on various topics, including pets, animal rescue, inspiration to write, being an author, having the courage to follow a dream and Colorado's wild horse herds.

From a letter Judy received from a 5th grader after a school visit:
"Thank you so much for inspiring me! I really waned to be a writer, so I started writing Snowstorms Over the Salvista. After I started, my friends discouraged me to the point where I stopped writing. After you came, it gave me the confidence to keep writing. At this point, I have written 5 chapters of my book. Thank you so much for inspiring me to keep writing! Sincerely, Erika"

Judy and her rescued pets live in Estes Park, adjacent to Rocky Mountain National Park.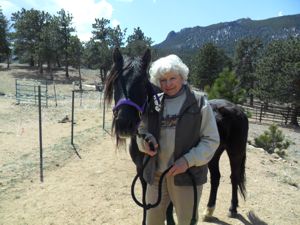 Judy with Crow, latest rescued mustang